-Eric Stacey
Currently the NHL is celebrating 100 years as an organization. Part of the celebration will include an outdoor hockey game here in Ottawa, and it is at that hockey game that the NHL will unveil 100 portraits of NHL players throughout the years.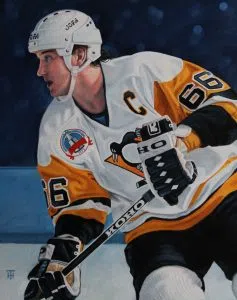 Painting of Mario Lemieux by Tony Harris.
The league commissioned Ottawa based artist Tony Harris to create the portraits, and they are simply amazing! Tony painted every one from Maurice Richard, to Wayne Gretzky, to Jonathan Toews, and they all look fantastic. The portrait collection will be shown at the Aberdeen Pavilion during the outdoor game, but you can also view digital versions of the paintings at Tony's website.