-Eric Stacey
If you're anything like me, you spent the past weekend binge watching the second season of Stranger Things. On top of being a fantastic nine hours of television, the season has also spawned a new meme (potential spoilers below).
There is a scene in the second season where Sheriff Hopper dances to a song, and the Internet did what the Internet does best and twitter user @hopperdancingto has edited the clip several times to show Hopper dancing to various songs. The account even earned a nod from the actor who plays Hopper, David Harbour, who said the account has won the internet, and his heart.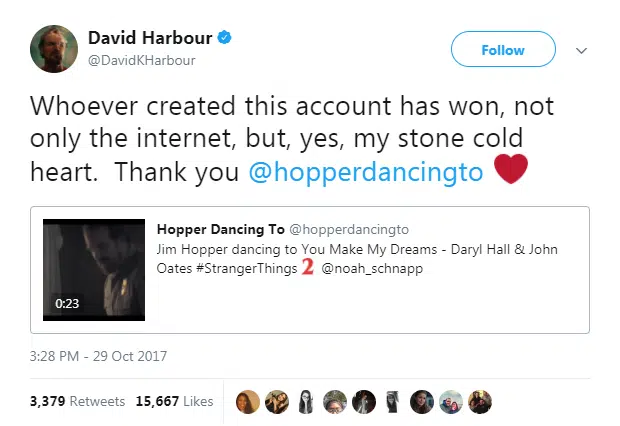 My favourite is Hopper dancing along to "Fat Lip" by Sum 41, but there are a bunch of them that are great. Check out the reworked dance videos @hopperdancingto on Twitter.
Jim Hopper dancing to Fat Lip – Sum 41 #StrangerThings pic.twitter.com/cs7LsaxOKf

— Hopper Dancing To (@hopperdancingto) October 29, 2017